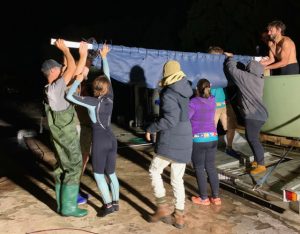 This announcement was supposed to be an exciting one. We have been working tirelessly for months to get our new venue ready for the arrival of our animals and planning an exciting grand opening to the public. Up until mid-March we were on track for an opening early in April after successfully moving 250+ animals into their brand new homes and leaving the old building behind.
But then, as you know, our whole country entered an unprecedented and unexpected crisis. We know that many of you are suffering in some way now due to Covid-19. Our thoughts are with all of you who have been affected by the illness and we appreciate everyone who is working on the frontline to combat the spread of this virus, and everyone else who is staying home and doing their part to look after the wider community.
As we are considered a non-essential business we are not allowed to open our doors to the public as we planned, and at this stage there's no expected date for recommencement of normal trading. We understand how important it is to comply with these rules for the health of our community. However, for our animals we are absolutely essential and without us providing food and care for them they will not survive.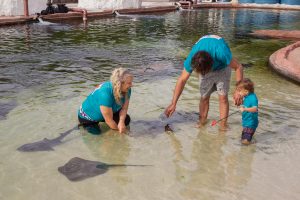 Irukandji is a small, family-run business. We aren't backed by big corporations and over the years all our revenue has gone towards looking after our animals and building our new venue. We rely on visits from school groups, international tourists and the general public to pay our staff's wages and ongoing expenses. Without visitors we can't afford any of that! Our wonderful staff have already been volunteering their time without pay, but we still need to pay for food, electricity and health care for our most important assets- our beautiful marine animals.
WHAT CAN YOU DO TO HELP?

The announcement of the government's most recent economic relief package has been a life saver! It means we can keep paying our staff for all the time they put into caring for the animals and helping us keep the business running. But we still lack the funds we need for food and ongoing care of our animals.
ADOPT AN ANIMAL
If you love our animals, how about adopting one of our favourites? Sponsorships start from $50 and last for 12 months. Your donation will help feed, care, and maintain their habitat whilst helping us to educate others about the importance of ocean conservation.
BUY GIFT CARDS FOR FRIENDS & FAMILY

Our gift cards can be used anytime for 3 years from the date of purchase.
Choose admission only (from $19.50)
$50 value cards (buy as many as you like!)
Or our very special offer that includes entry plus all the new experiences!
Normally priced at $206.50 it includes entry fee, snorkeling with our animals, the shark encounter, plus feeding our tawny nurse and zebra sharks for just $190.

IRUKANDJI ON THE NEWS
It's been wonderful to see the response from the public to our current situation. We have had so many messages of support, donations and offers of help.
We've also had a fair bit of media support including radio interviews, newspaper articles and lots of mentions online.
Last week we had the NBN news team come out to interview us and take some footage of our new aquarium. Check it out here for a special sneak peek at our never been seen before new home!
TO ALL THOSE WHO'VE DONATED… THANK YOU!
You guys are amazing! So far we've raised over $14,000 to help care for our animals while we are closed to the public. We are so appreciative of all the support we've received.
FOR OUR OFFICIAL COVID-19 RESPONSE PLEASE HEAD TO OUR PAGE HERE
It's now been more than a month since the government announced it's plan to help stop the spread of Covid-19 throughout Australia and many businesses were forced to close their doors temporarily. Unfortunately for us, that meant that we had to delay the opening of our new aquarium which we have been working towards for many months. We are very much looking forward to opening up our doors and letting you all have the opportunity to see our new venue and interact with our beautiful creatures.
Fortunately for all of us, the government's plan appears to be succeeding in reducing the numbers of new cases and we're hoping that we can open sooner rather than later! As we closely monitor government announcements on non-essential travel you can expect us to re-open when the population is allowed to go on non-essential outings once more.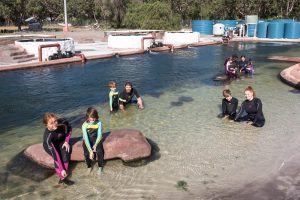 When we open we can easily follow social distancing restrictions that will still remain in place for many months, as we already closely monitor our visitors from an animals welfare perspective it is a simple update for us. Irukandji will be taking all necessary steps to reduce the chances of exposure to the virus at our site. We will keep you updated in our Covid-19 policy as changes are announced and we re-open.
WONDERFUL SUPPORT FOR ZOOS
The government has just announced a terrific support package for Zoos and Aquariums trying to feed and care for their animals with no income. This news is absolutely fantastic and we are so grateful for this assistance and for the overall support we have received from the public and the government. What wonderful news and we thanks everybody so much for thinking of us and caring for us in this crazy time!
IN THE MEANTIME…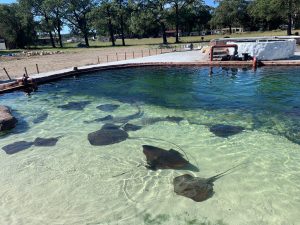 We're still here every day, working on our build and looking after our animals. We will continue to share updates on our progress and as many photos and videos of our animals as we can so you still get to see them. We encourage you to keep following us social media so you can keep updated. And please share our page so we can get as much support as we can.