SNORKELING FUN!

We are in the thick of school holidays snorkeling fun and having a great time meeting all the lovely visitors who've made us a part of their summer holiday. It's shaping up to be the busiest and best holidays ever with our two lagoons in full swing and a variety of activities to choose from.
With the tropical lagoon now under cover we have great options for all weather conditions. The new roof is able to be opened up to let the sign shine in and closed off when we need to keep the weather out.
It's our first Christmas holidays with two lagoons and all the activities available. So far we are getting great feedback on the amazing encounters, especially the new tropical lagoon snorkels.
As always our number one priority is the comfort and safety of our animals and that's why we limit visitor numbers. We want to make sure they get the right amount of food, care and attention and our staff need to be sure they are always aware of their wellbeing. For that reason it's important to book your tickets in advance before visiting Irukandji during peak periods such as school holidays and weekends.
The encounters are especially popular and book out every day in the holidays so book ahead so you don't miss out!
INBOUND GROUPS ARE BACK
We're so happy to see an influx of international visitors after having our borders closed for so long. It's great to offer opportunities for overseas visitors to learn about marine animals and ocean conservation in a fun and unique way.
After our attendance at the Australian Tourism Exchange earlier this year we were able to make new connections and open up our doors to more visitors than ever before. We look forward to the coming year as we welcome guests from all over the world.
NEW SIGN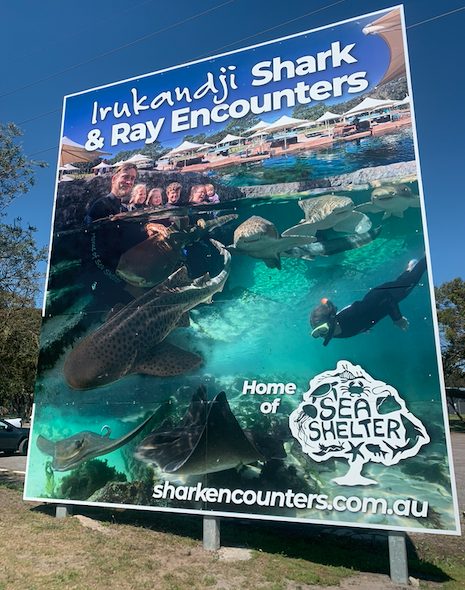 Since our last update we have installed a new sign out the front after our previous one was damaged.
We are all so excited about it – how good does it look showcasing Irukandji and the amazing educational interactive out of this world experience we have become!
When you are driving into NELSON BAY or Soldiers Point check out the awesome new sign on the road about at Irukandji.
ANIMAL NEWS

Have you seen our indoor tropical tank recently?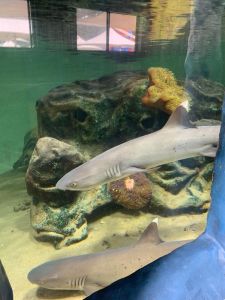 It's currently teaming with a variety of life and some very big personalities!
Some of our male whitetip reef sharks currently call the indoor tropical tank home, whilst a few of the original inhabitants have migrated out to the new Tropical lagoon such as sea anemones, sea apple, blue tangs and clown fish. The largest anemone is home to one very fiesty little clown fish who is very protective of her home! Some of the keepers have reported being bitten by her tiny little mouth when they get too close.
SEA SHELTER NEWS

As usual, Sea Shelter has been busy with rescues, rehabilitation and releases over the past few months. Here's a short summary of some of the animals we've been helping recently.
We had a busy start to the new year with several rescues in the first week. Sadly a little guy at Middle Rock didn't make it, then on the same day we found out the the resident green turtle at D'Albora Marinas was accidentally caught with fishing hooks. A trip to local Nelson Bay vets for X-rays showed 5 hooks stuck in his digestive tract and he's now at Taronga wildlife hospital fighting for his life.
We also picked up our biggest ever rescue, a male turtle named Clyde who was found floating at Tanilba Bay. It was a whole team effort with both volunteers and members of the public helping to bring him in but now he's in the caring hands of Sea Shelter and we all have our fingers crossed for his recovery.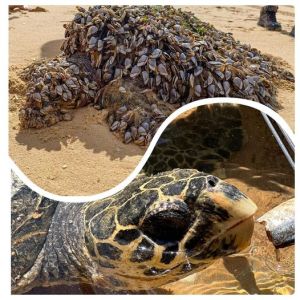 We had a mixture of good and bad news during November with the release oftwo of our turtles, Frida & Zara, followed by the heartbreaking loss of an endangered hawskbill turtle.The whole team were very invested in saving her, but after the removal of over 6 kilos of barnacles from her, it was clear she was sick for a very long time.
Thanks to Neil Vincent for the amazing shot below of Xara being released and a great shot of her wonderful team of Sea Shelter carer
News of the area wrote a piece about the two recent rescues which you can read in full here.
Thanks to Marian Simpson for the article and photos of our beautiful rescue Frida.
RAISING AWARENESS

Some of our volunteers recently hosted a stall at St Phillips Christian School fair to raise awareness of Sea Shelter and their dedication to ocean conservation. Their mission was to educate locals on what Sea Shelter does and inspire them to make changes in their everyday life to promote sustainability of our oceans.
NEW VOLUNTEERS

Recently we welcomed some new volunteers for Irukandji and Sea Shelter. We are so excited for these lovely people to join our team with our team!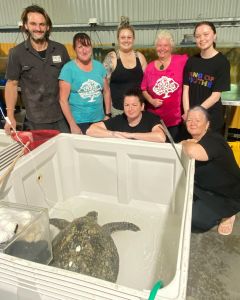 We are always in need of volunteers for both both Irukandji (assisting in the daily operations of the aquarium) and Sea Shelter (within the Animal Hospital). If you're passionate about marine life, looking to get some hands on experience, and are able to commit one day a week to help out – we'd love to meet you! We will be holding our next volunteer induction days in February so if you would like to be involved please click the link below to submit an application through Irukandji's website.
If anybody from the local area has experience in bookkeeping or accounting Sea Shelter are also seeking a volunteer public officer/accountant/book keeper to join the new board.