WE ARE UNDER COVER!

Irukandji's new tropical lagoon is under cover! We're so happy to say it now has a roof over it's head!
The next phase of the aquarium is well under way with the building frame complete and the roof now installed. The next step will be building the walls so the lagoon will be completely enclosed and whether proof. Now warm in winter and cool in summer plus helping to maintain the temperature of the water and control the environment and plant life. Have a look at the pictures below to see the building progress!
RETURN (BEACH RUBBISH) AND EARN (SHARK BUCKS)
This year for World Ocean Day in June, Sea Shelter and Irukandji hosted a beach clean up where participants had to spend time cleaning up a local beach and then return the rubbish to Irukandji for counting and disposal. Irukandji gave away shark bucks to spend for every piece of rubbish collected. They also offered prizes for those that collected the most rubbish and put the most effort into recording their findings.
The grand prize winners have the amazing privilege of assisting with the release of the next rehabilitated turtle who is ready to go home to the ocean.
Congratulations to Greg Shepards, team of 3, who cleaned up One Mile Beach with 247 points and earning $49.40.
2nd place goes to Jane Keaty's team of 2 who also cleaned up One Mile Beach earning 240 points and $28.10 in Shark bucks. 3rd place goes to Aimee Bowman, team of 1, with 234 points and $23.40.
We look forward to their visit to see Irukandji's new tropical lagoon so they can spend their shark bucks!
LIA & JESS AT ATE
In May this year a team of tourism business owners and representatives from Port Stephens headed down to Sydney for the Australian Tourism Exchange. Irukandji was represented by the wonderful Lia and Jess, who had an amazing and very busy time meeting agents from travel agencies and tour companies from all around the world.

Now that the world is opening up to travellers again we can't wait to share our beautiful experiences with international tourists!
ANIMAL NEWS
The animals at Irukandji are always keeping us busy and entertained so here's just a small snippet of what's been happening amongst our famous sharks, rays and fish.
Cleopatra, our juvenile zebra shark, has been happily growing inside our shark nursery next to Irukandji's new tropical lagoon. She's now big enough that we are getting ready to move her to the main lagoon!
We recently acquired an endangered saddletail grouper (also known as a black rock-cod) who we've named Rocket. He's very much enjoying his new home at Irukandji
Ryan took a road trip to the Gold Coast recently with some lucky staff members to pick up some new whitetip reef sharks to add to our reef shark crew.
Dotty, one of our bamboo sharks, has been laying eggs on some of the keepers feet! We can't wait to see if we get some new brownbanded bamboo shark pups soon!
And we've spotted some clownfish eggs under the anenome so the little clownfish family will soon be expanding!
LOCAL'S MONTH AT IRUKANDJI'S NEW TROPICAL LAGOON
August was local's month at Irukandji which is always a great opportunity for locals to visit us out for half the usual price. It was so good to see so many take the chance to check out Irukandji's new tropical lagoon. It was great to see so many happy customers who we hope will share their fabulous experiences far and wide and encourage others to make the trip to Irukandji.
Some wonderful feedback:

"We had the most fabulous visit at the centre last Friday. 7 kids and 5 adults were all completely engrossed in learning about the sharks and stingrays. The staff at all the pools were so friendly, knowledgeable, and professional with that perfect piece of humor thrown in. Jess at the front counter was amazing helping with our booking and meeting us on the day. We will definitely be back and will be purchasing season passes in years to come so we can come and visit as the next 6 stages of the centre are developed. The time flew while we were there – nearly 3 hours! And one of the most pleasing things was the next day we went to Birubi Beach and the kids (aged 7-13) collected rubbish as they walked along the beach and brought to back to put in the bin after being encouraged to do the 'Three for the Sea'. Congratulations to the management and staff. We can't wait for our next visit."
THE HUMAN WHALE IS BACK!
After two years of Covid the Human Whale is finally coming back to Fingal Bay in 2022.
We'll be gathering at Fingal bay beach on Sunday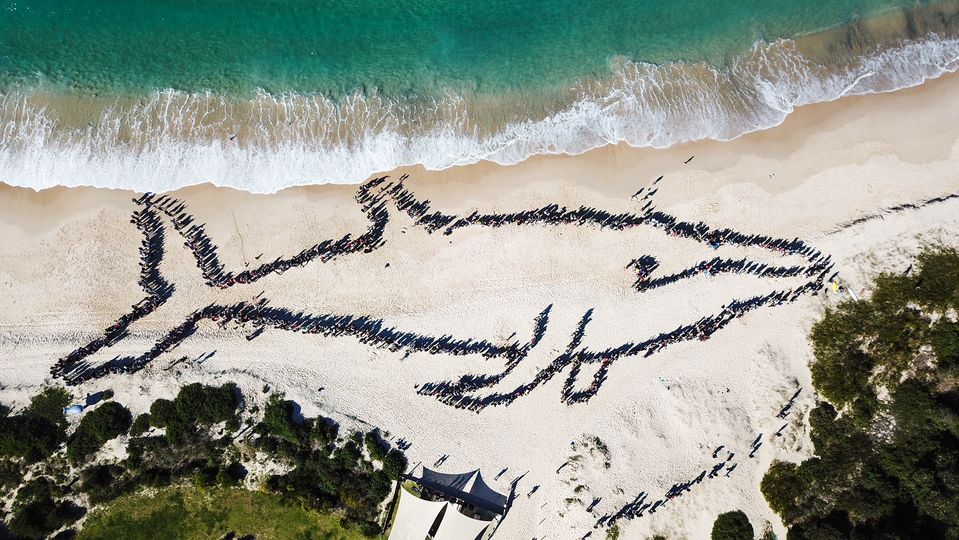 October 9th at 11am for a 12 o'clock photo shoot. This year we want the kids to make a baby whale as we are going to see several thousand pass the Port from late September to November 1st.
Follow this link for more information about this fun event!
SEA SHELTER NEWS
PLEASE NOTE THIS POST CONTAINS IMAGES AND INFORMATION THAT MAY BE DISTRESSING
Sea Shelter has seen a lot of rescued turtles through their doors in recent months, with 11 call outs for turtles since April. Sadly 6 turtles passed away within a few days or weeks of being rescued.
There are now 9 turtles (the most ever simultaneously) currently being rehabilitated by our team in the Sea Shelter hospital with a variety of conditions and prognoses.
TURTLE NEWS
Beryl, our longest resident, will finally be released sometime this spring with a tracker to tell if she is spending to much time at the surface and floating again – fingers crossed she does not need to be rescued again as she is an important breeding adult female.
The two hatchlings, Emerald and Isobel, who have been with us for winter will now be released out to sea now the weather has warmed up.
Frida, an adult green sea turtle who was rescued from Lake Macquarie in April, is finally feeding properly after being tube-fed for many, many months.
Turt, the freshwater turtle who was rescued by our volunteer vet, Gin, is also almost ready to go home! Gin will take him back to where she found him now that he has healed.
Quinn, one of the newest rescues, has found to be full of fish hooks and has a poor prognosis.
We have had many deceased, very sick, infected or dying turtles from all up and down the coast since the flood event. It is heartbreaking to see the effects we have on the ocean when all our chemicals and plastic accidentally wash out to sea in one go. People have lost their entire houses down the river with all the contents inside accidentally affecting the entire east coast. Such a terrible ordeal for all.
WANT TO HELP THE TURTLES?
Can you spare a day a week volunteering in the hospital? Currently we don't have enough trained hospital volunteers to cope with the demand of caring for so many sick and injured animals. We are seeking more generous, helpful individuals to assist in the rehabilitation of the turtles. We have so many in care now and more will no doubt be coming. All we ask is for you to undertake an induction and training and then commit to one day per week volunteering in our Sea Shelter Hospital. In return you will be rewarded with the unique opportunity to get up close with these beautiful and rare animals. You will gain so much satisfaction knowing you are helping to ensure they have a better future.
We will soon be holding a volunteer induction day so if you would like to be involved please click the link below to submit an application through Irukandji's program.
EDUCATING OUR YOUNGSTERS
Some of the team from Sea Shelter have been out and about visiting local schools and preschools to educate some of the youngsters about the importance of ocean conservation and preserving our wildlife.
Lia visited Our Place Preschool in Nelson Bay, Leanne visited The Hub Preschool in Rutherford and Tania and Natalie visited St Brigids school in Raymond Terrace for world turtle day.
All the students have been so enthusastic and engaged and offered up some really great questions for the team. With so many caring, passionate young kids around, we are very excited for the changes they will make for the future of our planet.
Please feel free to get in touch if you'd love a visit to your school or preschool from our amazing Sea Shelter volunteers.