This Is The Year Irukandji Doubles in Size!

We didn't quite make the holidays but it's not long now before we unveil our amazing new Tropical Lagoon and Irukandji doubles in size! It was flat out during the school holidays with so many visitors coming to see us. We received so much wonderful feedback about the work we're doing and we are so thankful for the support. We can't wait to grow and share with you all!
We've got some great news to share with you as our wonderful facility and the hard work of our team has been gaining recognition recently.
In November we won the Port Stephens Examiner Business Awards for Tourism. It was a great achievement to win after being nominated for the past few years. We look forward to proving ourselves as a top quality tourist attraction as we expand and grow and Irukandji doubles in size.
MORE RECOGNITION
In November a video of our zebra sharks being fed by one of our fishkeepers circulated around social media thanks to a re-share by Destination NSW. It was seen by a massive number of viewers, more than we could have hoped for! The best news is that it's raised much awareness about Irukandji's experiences and mission.

Right now the Tomaree Museum is featuring information and photos from Sea Shelter in their Life in Port Stephens: Sustained by the Sea exhibition. It will be held throughout the summer until the end of February at the visitor information centre in Nelson Bay and it's a must see for all.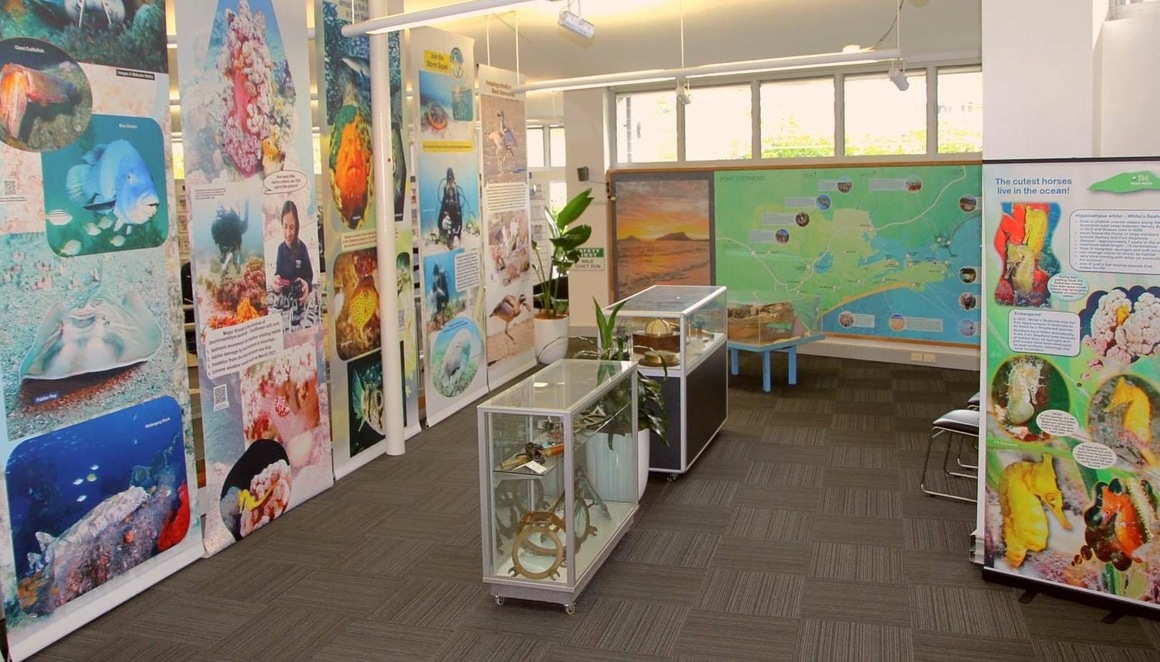 SAVE OUR SANCTUARIES

The last few months have been intensely busy for Irukandji management and staff plus the Sea Shelter volunteers because they've been working on raising awareness about the Marine Parks Draft Management plan. They put together a huge submission as feedback to the plan and shared with the public in the hopes of raising support for the protection of marine sanctuary zones. The public survey is now closed for feedback so fingers crossed our campaigning has an impact on the final plan!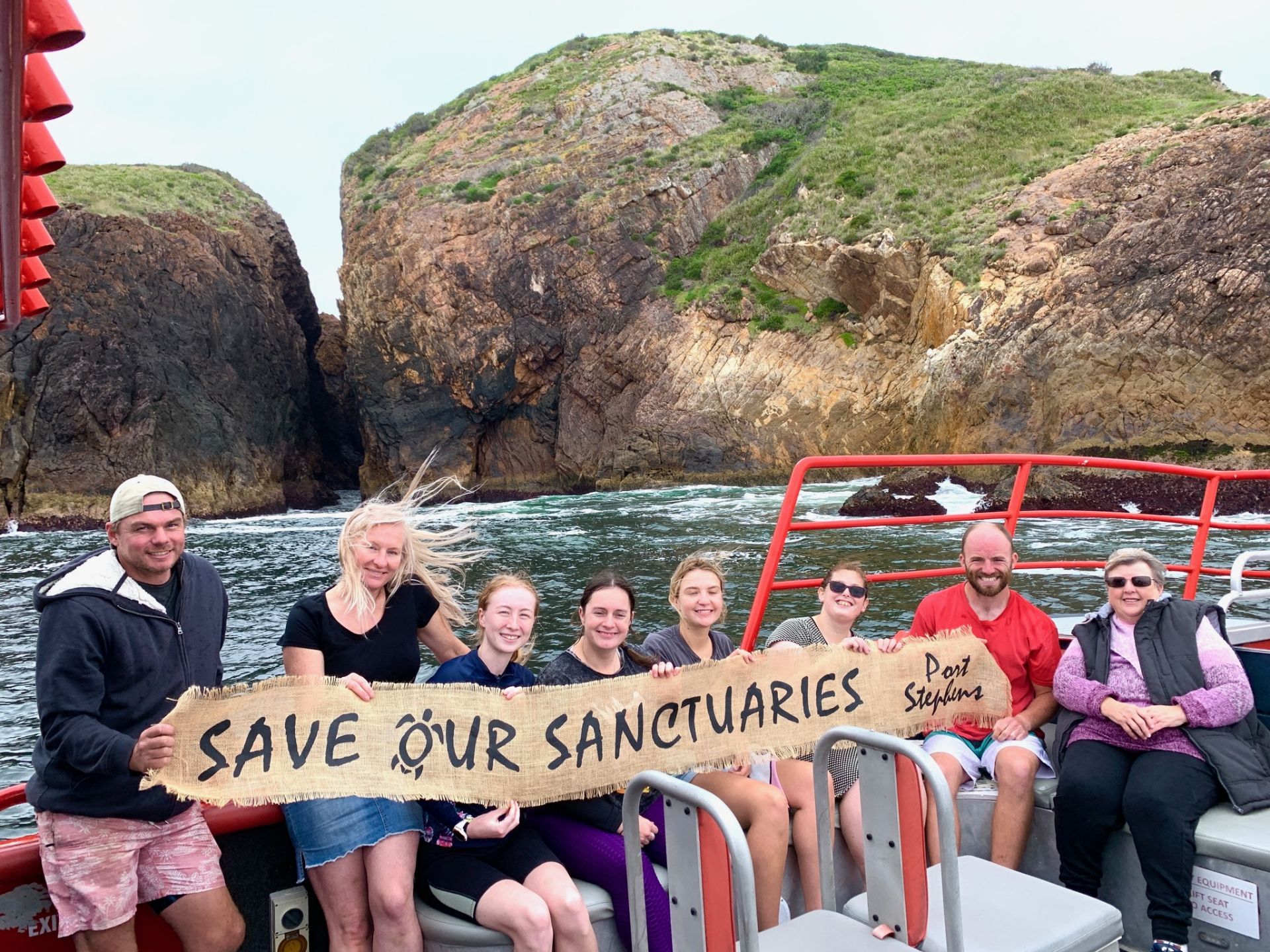 KEEP AUSTRALIA BEAUTIFUL- TIDY TOWNS AWARD

Irukandji and Sea Shelter have been working with other local organisations to support Port Stephens' nomination for the Sustainable Communities- Tidy Towns award for NSW. On the 7th of January the judge came to Port Stephens and our Lia spent the day visiting the businesses involved to film their campaign. The team included:
Plastic Free Port Stephens
Sea Shelter
Irukandji Shark & Ray Encounters
Port Stephens Council
Salamander Bay Recycling Centre
Ocean & Coastal Care Initiative
Banks Marine
The Mambo-Wanda Wetlands Conservation Group
The Mambo Landcare Group
Tomaree Museum
Operation Posidonia
Lets Go Adventures
Port Stephens Community Arts Centre
Feet First Dive
Eco Network Port Stephens
Marine Parks Association
Imagine Cruises
No matter the outcome it was a great opportunity to showcase the efforts of local businesses and organisations towards conservation of our beautiful environment.
SEA SHELTER RESCUES

PLEASE NOTE THIS POST CONTAINS IMAGES THAT MAY BE DISTRESSING TO SOME VIEWERS

 
While that's been happening at Irukandji we've had an an influx of animals to rescue and care for as Sea Shelter is becoming more widely known as a wildlife rescue organisation.
We have lots more information on the Sea Shelter website about the rescues so please read more about them here. One of them was even reported by Channel 7 News and has gained interest around the country.
LAKE MACQUARIE TURTLE RESCUE

On the 17th January a green sea turtle rescued was rescued from Bolton Point after being found tangled in a crab pot and fishing line. It was injured by fishing line wrapped around it's flipper as well as stuck in it's mouth. The team at Australian Sea Bird & Turtle Rescue picked it up and brought it to Sea Shelter for assessment and treatment.  Salamander Bay Veterinary Clinic took an ex-ray which showed a fishing hook stuck in it's throat so it needed further treatment. Two of our Sea Shelter volunteers drove the turtle to Taronga Wildlife Hospital for specialised care. Channel 7 discovered the story and aired it on the news on January 28th. Since then Taronga have posted updates on their social media saying that it's showing improvement although it will be a long road to recovery.
See the news report below.
Check out the latest news at Sea Shelter to read more about:
The little penguin found on the shore at Birubi beach and taken into the care of Central Coast Australian Sea Bird & Turtle Rescue.
The injured turtle, Rafiki brought in from the Central Coast after losing one of it's flippers. He's now doing really well in our rehabilitation facility and might be released soon!
Updates on our turtle Elvis's progress. From severe facial injuries to a healthy turtle almost ready to go home!
Sadly we lost two turtles recently. One was found sick and lethargic in Hawks Nest, and the other one was a healthy adult who was likely killed by a boat collision.
You can find more pictures and information about the animals and our work at Sea Shelter here.