Irukandji offers incredible opportunities to encounter a world little is known about. Learn more about the animals that live there and take an in-depth look at the importance of ocean ecosystems. Animal encounters with many species of Sharks, Rays and sea life give you the chance to get up close and personal with these magnificent animals. Differing from the normal behind glass aquarium experience Irukandji is a one of a kind.
Usually Encounters like this can cost an arm and a leg with limited openings, here at Irukandji EVERYBODY gets to experience it.

The journey that each and every person embarks on includes an education on all the species that you meet. You may learn something new about one of your favorite animals, or discover an entirely new creature that you've never seen before.

This exciting encounter is included in your entry! Wearing your own clothing and staying (mostly) dry, you can wade in the sandy shallows of the new beach style lagoons, or sit on the rocks, feeding and petting the beautiful animals.

SHALLOWS ENCOUNTER WITH WETSUIT
This is the same Shark Encounter Irukandji is famous for. Get wet, get right in, feed and interact with them while your tour guide offers a wealth of information about marine life and ocean conservation.

You will be entering the deeper water with an experienced guides, swimming all around with our biggest reef sharks in a whole new underwater world (don't forget the camera). Suitable for ages 12+ only.

You will be entering the warm water of the tropical lagoon with an experienced guides, swimming all around with our gorgeous zebra sharks. This is suitable for anyone aged over 6 and pool noodles can be supplied!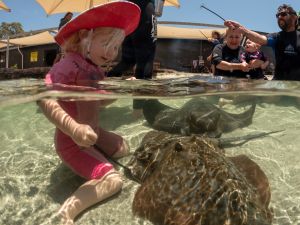 The Little Ray Cuddle is a great activity to guests of all ages. It's a calm, quiet and uplifting experience where you will be able to safely cuddle rays on your lap in the shallow water of Fingill Lagoon.

The original lagoon at Irukandji is now home to smaller sharks, rays and our huge 150kg smooth rays! Snorkel the lagoon and get a closer look at these amazing, graceful animals. Don't forget your underwater camera! Suitable for ages 12+ only.

Encounter our biggest sharks, the tawny nurse and white-tipped reef sharks in the new tropical lagoon. Some of these sharks are 3 metres long! Suitable for ages 12+ only.

Spend some quality time up close with our beautiful Zebra sharks! You will get to feed and pet these amazing, endangered animals, and learn why they're called zebra sharks despite their spots!

Now Featuring Hot Showers!
You can now warm up after your shark encounter under our hot outdoor showers.
These have recently been installed for your comfort and convenience.
BYO towels!