Courageous Dive Rescue of Injured Sea Turtle in Nelson Bay 
The quick thinking of a local diver resulted in the courageous rescue of an injured sea turtle. In early February 2022, diver John Duchatel was enjoying a dive off Fly Point, Nelson Bay when he came across a turtle which did not look well at all. John was very concerned when he noticed a large piece of shell missing from its side and barnacles on its head and body. He took lots of photos and videos of the turtle and shared them on social media determined to find someone to help him bring the turtle in and get it the care it needed.
It was so heart warming to see the response to John's post with so many caring people sharing the information and tagging people who they thought might be able to help. The post caught the attention of local divers Drew Smith and David Brown, meanwhile John got in touch with Sea Shelter founder Lia Pereira. David and Drew offered to meet John at Fly Point joining his search party to find and rescue the injured sea turtle. Lia organised Sea Shelter volunteers Norma and Alex Crawford to meet the divers at Fly point with the turtle sling just incase they were successful and John came well prepared with a Dive X scooter for searching. In what was an amazing and surprising outcome the search party located the turtle and proceeded to execute the courageous rescue, bringing it in safely to the waiting volunteers on land.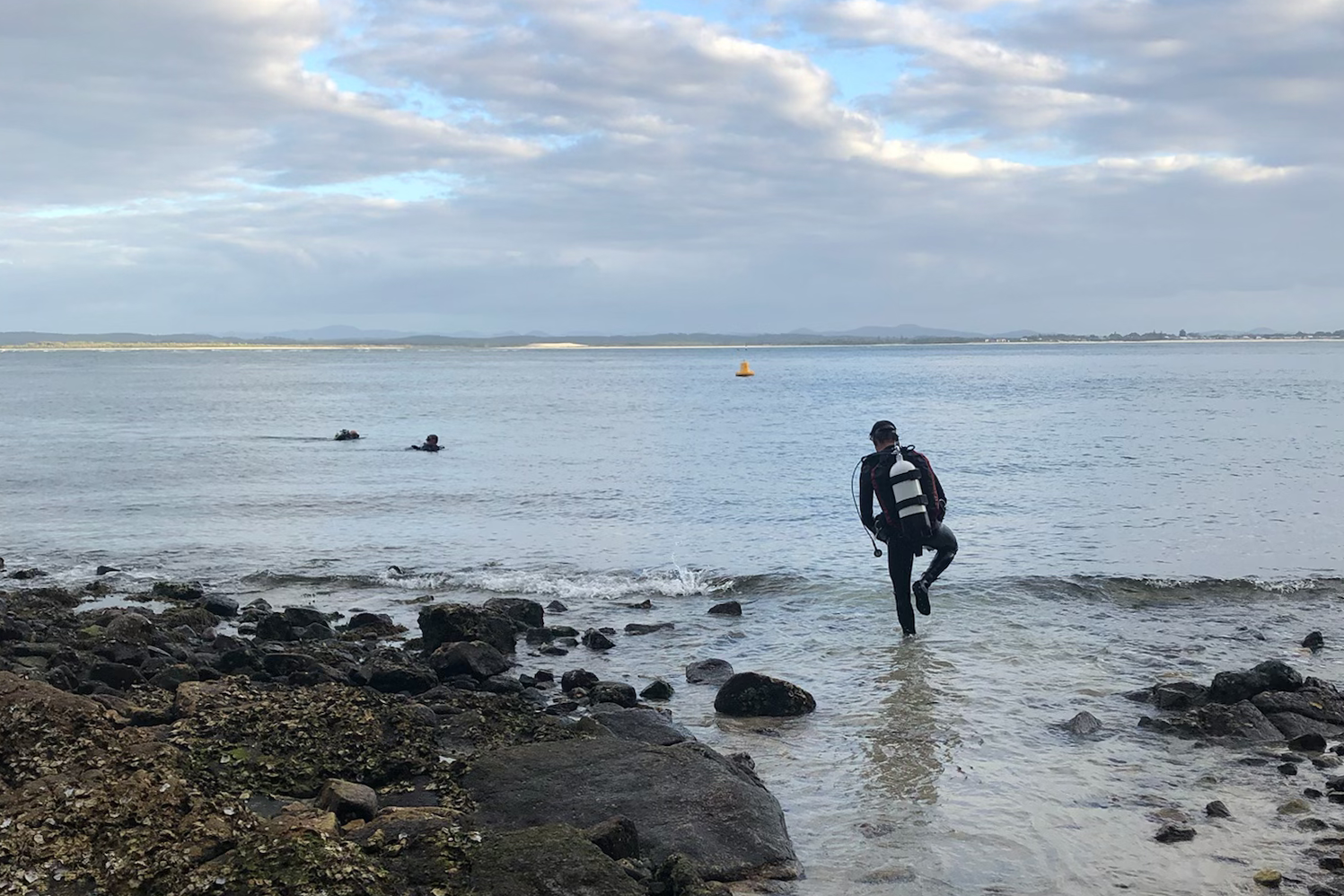 A community effort brings the turtle in safely.

The combined efforts of our wonderful community actually locating a turtle underwater had never been seen before and were truely magnificent so the next part came as a big blow. After everything that had passed the vet phone call was devastating; it was after assessing the turtle they rang in with terrible news that they would have to make the difficult decision to euthanise it. This outcome has been absolutely heartbreaking for all involved, Ryan and Lia were devastated,  knowing and trusting the vet they then had to break the news to John and the whole community who was waiting to hear great news, what a sad day.
We cannot be more grateful for the kindness and efforts of  everyone who helped, rescuing or simply sharing the post and getting the information out there. This memory will always be bittersweet,  a great reminder of the courageous, kindness humans can show,  for all of us to keep our eyes peeled for sightings of animals in distress, for us to keep on fighting against the odds,  aside from this one sad story there are many success stories and we should never give up.
Report Injured Marine Life to Sea Shelter
Follow the link below to report injured sea animals directly to the dedicated team of marine life rescue volunteers.
While this is not the outcome which anyone hoped for, we are all grateful for caring divers, volunteers and members of the Nelson Bay public who joined together to find this vulnerable turtle and get it the best possible care.