Welcome to 2021!
Goodbye 2020 and welcome to a brand new year!
Hi friends, and welcome to 2021! Thanks so much for all your support during the crazy year that was 2020. We had a wonderful end to the year with our busiest holiday period ever. Almost every day was booked out with visitors coming from all around to spend some time with our gorgeous animals. It was great to see so many happy faces of all ages and from many different walks of life, all learning about and interacting with our amazing marine creatures.
Our Mini Marine Biologist program ran wonderfully and smoothly throughout the holidays and it was fantastic seeing so many enthusiastic young learners taking in as much information as they could about our animals and the ocean.
And now that schools have the go ahead for excursions, we're looking forward to teaching even more of the younger generation about ocean conservation and environmental sustainability throughout this year.
Congratulations Lia and Ryan!
On Australia Day this year, Ryan and Lia were formally recognised by Port Stephens council for their hard work and dedication in the field of environmental conservation with Sea Shelter. Leading an amazing team of volunteers and countless hours protecting, defending & restoring healthy oceans. Many a beach and waterways clean up, rescued and rehabilitated marine animals, and inspired others to make changes in their every day lives to help save our oceans.
A very well deserved award!
Local MP Kate Washington made a visit to Irukandji a few days later to see the new facility for herself with Ryan and Lia doing the work they love.
Meet Our Amazing Team
Please welcome Connaugh, one of Irukandji's newest fish keepers.
We first met Connaugh back in November 2020 as he came onboard as a volunteer. He learned the ropes as quickly as possible to land himself some casual work during the busy holiday period, and he's been with us ever since! He is a London native and he completed his bachelor of Zoology in Cambridge, followed by his masters in Tropical Marine Biology in Essex, before moving to Australia in late 2018. He is most passionate about educating the younger generations about conservation, and changing their attitudes towards predators, especially sharks.
Sea Shelter & Irukandji
Wildlife Rescues and Rehabilitation at Irukandji
Our Sea Shelter hospital has been busy these last few months! We've started the process of training our volunteers to help out with the rehabilitation of rescued turtles here at Irukandji's quarantine facility. While Ryan still spends much of his time with the turtles he now has regular hospital assistants helping him out.
We've rescued several turtles recently, including a small endaggered hawksbill turtle named we named Izzy. She was found floating near the Nelson Bay marina with some fishing line around her flipper. She was small and weak and showing signs of a parasitic infection such as spirorchiid flukes, which can be lethal to turtles.
The other two turtles currently in residence are coming along well, and we've even started to produce our own lettuce garden to help keep them well-fed with a variety of vegetation.
Lately we've had a bit of confusion about another business that has popped up in our old location. We wish to clarify that our rescue non profit is called Sea Shelter and they/we have been rescuing sick and injured marine life since 2017 we are in no way affiliated with the business known as Shark and Ray Rescue which is recently operating out of our old premises in Bobs Farm. Sea Shelter has the highest standards of animal husbandry and conservation practices which are monitored by professionals and vets. If you see and marine life in need of help please contact us for sharks, rays, sea turtles, sea snakes & fish.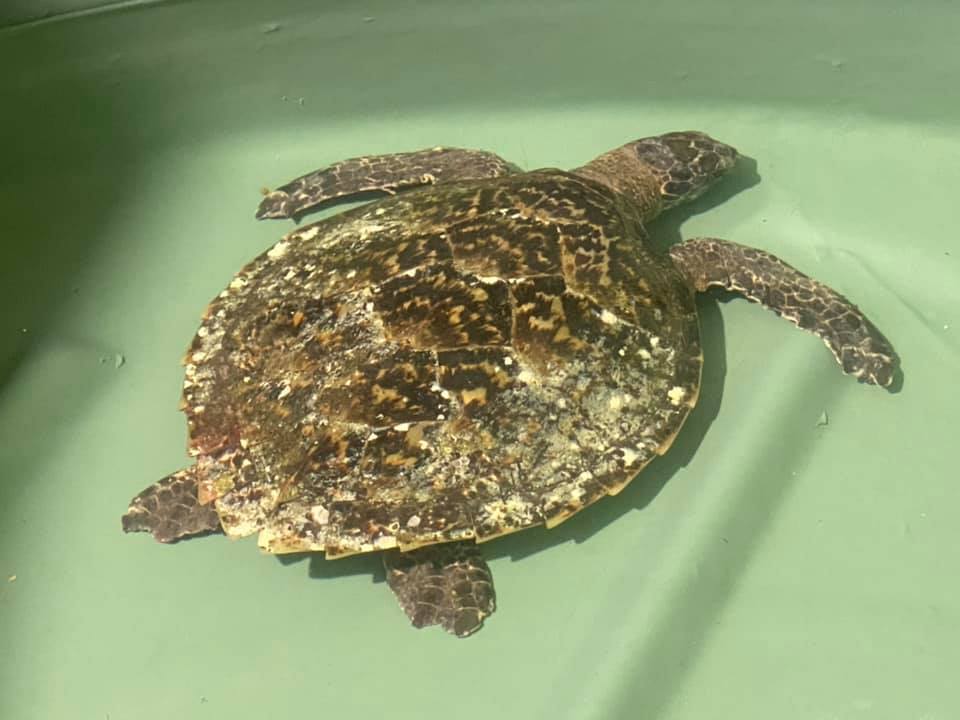 Find us at:
Irukandji Shark & Ray Encounters
2 Jessie Road, Anna Bay