An Incredible and Rewarding Career
What a rewarding career to be embarking on when you join Irukandji. Working with amazing animals who surprise you every day with their intelligence, wonderful staff who work well in the team and love learning new things. Irukandji allows you to change the world every day at work; every time you take a tour you are sharing education and ocean awareness to the world. Not to mention the sheer joy of swimming and interacting with sharks as a job! What an awesome life.
Explore the Opportunities
Positions Vacant
Please click the link above to view the vacant position or if there is nothing available right now click here to view information about the kind of jobs that occasionally come up at Irukandji.
To get your foot in the door when there is no positions vacant the best option is to join our volunteer program which is the 100% best way to get a job at Irukandji as we look to our trusted volunteers when a job arises.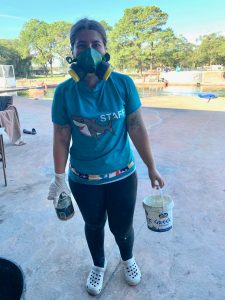 A Great Work Environment
Be greeted by the friendly Sharks as you begin your workday, relax in front of the wetlands on your lunch break, and meet many beautiful people from many walks of life.
Working as a Zoo Keeper is a very popular career choice, not many people can boast such excitement from there work day. As a result job openings are very rare. We wish all applicants the best of luck, hopefully you will succeed in joining our dynamic team.