Leave Irukandji with Unique Gifts
The Irukandji gift Shop offers a range of fun and memorable aquatic and Shark-themed gifts, for all ages. There is a nice array of toys, clothing, books, home décor, jewellery, educational books and even original artworks by local artist Denise Duffy.
Sustainable Choices
When shopping it is so important to think of your environmental footprint. Irukandji endeavors to purchase sustainable and environmentally friendly products.
Look for products and services that are environmentally responsible, such as products that:
Use minimal packaging
Are organic or biodegradable
Are recyclable or reusable
Contain 'green' certifications
Re-Usable Shopping Bags
Shoppers in Australia use billions of bags each year. Far too many of these bags make their way onto the streets, bushland and waterways as unsightly litter.
Plastic bags use up finite resources, including oil, in their creation. According to some estimates, it takes up to 100 million barrels of oil to make the world's plastic bags each year. Plus plastic takes up to 1,000 years to decompose.
Yet typical usage of a plastic bag is just 20 minutes.
Our gift shop offers re-usable fruit and vegetable bags and shopping bags.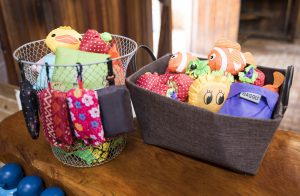 Leading by Example
Irukandji is committed to conservation and this guides how we operate our business. Our Gift Shop recycles the majority of all packaging (paper, plastic, Styrofoam, cardboard, etc.) and offers re-usable Clown Fish bags or brown paper bags as an alternative to plastic bags. All garbage bags used on site are biodegradable and all grocery shopping is done in reusable bags. Our staff continue this trend everyday in their home lives. Every single plastic bag counts; will you #banthebag from your home life also? If you love our ocean, find out more info on how you can get involved in easy conservation HERE